We create medical websites that patients need and search engines love
We don't just create nice looking
medical websites
. Our
website design
,
copywriting
, and
programming
attract and engage patients while teaching them a thing or two about your practice and expertise. We make your medical website—and ultimately your practice—the place they turn to again and again.
Website design for medical professionals and healthcare industry

In today's competitive healthcare market, the key to generating new patients extends far beyond referrals and word-of-mouth. Top physicians and medical facilities across the U.S. understand the value of Internet marketing and the importance of healthcare websites and medical website design for their businesses.
Our medical website design approach
We help doctors and practices of all shapes and sizes translate medical know-how into
medical websites
that do more than just answer patients' questions. Our website design strategy packs in
medical videos
, interactive tools, and more so patients make appointments and keep coming back for more.
Medical websites that search engines love
Without a medical website, your practice is nearly invisible to 70% of adults—adults who are actively searching the internet for healthcare information. But since 80% of potential patients begin their hunt with a search engine such as Google, it's not enough to just be online. You need a
medical website that will be found
.
Search Engine Optimization (SEO)
is the magic road from patients' needs to your medical website.
Keywords and key phrases
help drive viable traffic to your website, but SEO is a moving target that requires constant attention and modification. Our website design and
SEO experts
constant aim two steps ahead to keep your medical website at the top of the lists that matter.
Our medical website design process includes: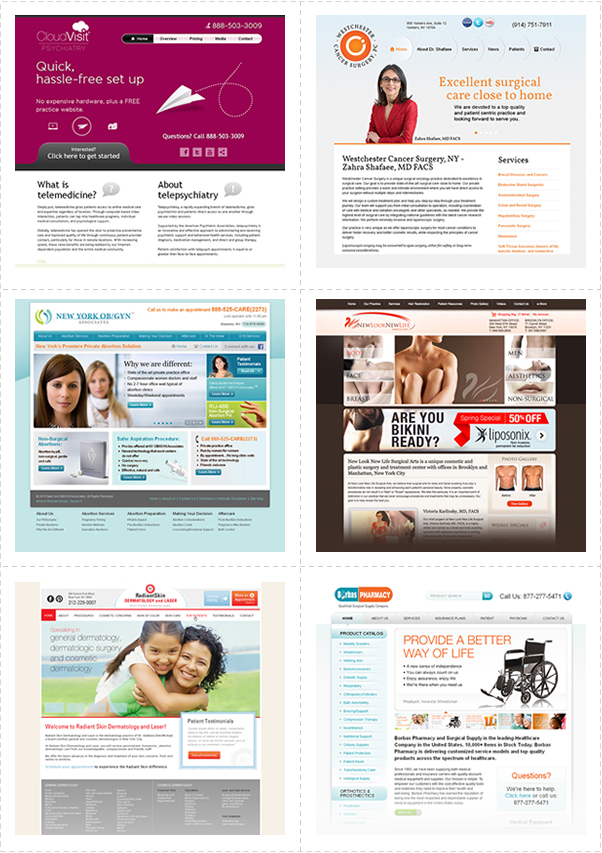 Medical website design with your future in mind
We partner with clients for the long haul, but we don't believing in charging you for every little website design update. We build websites with the latest content management system (CMS) that give you easy-to-use tools for making your own updates and revisions.
Medical website design - common mistakes
Medical/healthcare website design services: 845-424-6258