Cardiology website design
In order to succeed and prosper, a business must have a marketing plan. A cardiology practice is no exception. A quality custom designed web site designed specifically for your
cardiology practice
is a vital component of that plan. In many cases, a potential patient's first impression of a cardiology practice will be conceived from their immediate reaction to its web site. And we all know how important that first impression is as itís so hard to change.
Aurora IT can design, create and develop a
cardiology web site
for your practice that will not only build your credibility among potential patients but will also attract them. By working hand in hand with our radiologist clients, Aurora-IT can produce a content rich medical web site that will feature highlights of your career, affiliations, press releases, announcements and other
well-planned marketing material
that will build the ever-important confidence you desire from your patients.
As healthcare web site experts, Aurora IT knows what your prospective cardiology patients are looking for online. We strive to produce web sites that provide a wealth of information to meet the needs of your potential patients with the goal of building their trust in you. Thatís why every
cardiology web site
we develop is filled with content specific to your cardiology practice combined with
content specific to you
.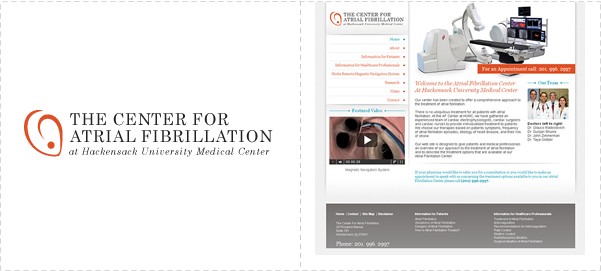 You may be asking yourself, "Will people find my new web site?" The answer is YES! Millions of people turn to the World Wide Web to quench their thirst for medical information. As a matter of fact, the Internet is the first place most people turn to research information about their ailments and medical concerns. Our in-depth familiarity of the algorithms that the major search engines use to display search results enables us to deliver web sites that will benefit from first page placements and give your cardiology practice
maximum online exposure
.
As
medical web site specialists
, we are experts in the behavior of internet users. We capitalize on this expertise by creating
user-friendly cardiology web sites
that are easy to navigate. Users will have instant access to the information they are seeking. The ease and comfort that your potential patients will experience online will transcend to their perception of your practice. This results in a higher likelihood of turning your online visitor into an office visit.
Contact us: 845-424-6258