Your medical logo: a simple icon or the foundation of your practice persona?
Think of your
medical logo design
like your health. When it's good, itís taken for granted. But when itís not, it has a subtle way of interfering with everything you do. A healthy practice needs a healthy logo. The right
medical logo design
will convey your expertise, solidify your professional image, and connect you with patients in a memorable way.
It sounds simple, but finding the right balance between those important messages and good, clean design takes an expert. Our medical logo design specialists are amazingly adept at translating your personality into a professional, inviting mark youíre proud to stand behind.
Donít underestimate your medical logo. It brings everyone—your
website
,
business cards
,
signage
,
brochures
, and moreó
together into one
happy, productive family.
Medical logo – strong foundation, powerful springboard
Conveys a professional, solid image
Demonstrates the longevity and stability of your practice
Connects patients with your style and personality
Establishes brand recognition and marketing cohesion
What the logo designers know:
Size matters: Your medical logo has to work big or small. The graphic elements and typography must be recognizable and readable at any size.
Color shapes emotion: Color psychology is a real phenomenon with proven affects on patients. Color is important, but so is a black and white version for printing versatility.
Leave a little to the imagination: The graphic components of your logo can communicate your practiceís focus without being overt. If patients have the opportunity to interpret a little about you, theyíre likely to feel more connected to you.
Say no to stock: Never include stock art in your medical logo. You risk having the same mark as another practice and you sell yourself short in originality, distinction, and memorability.
Aurora's Medical Logo Samples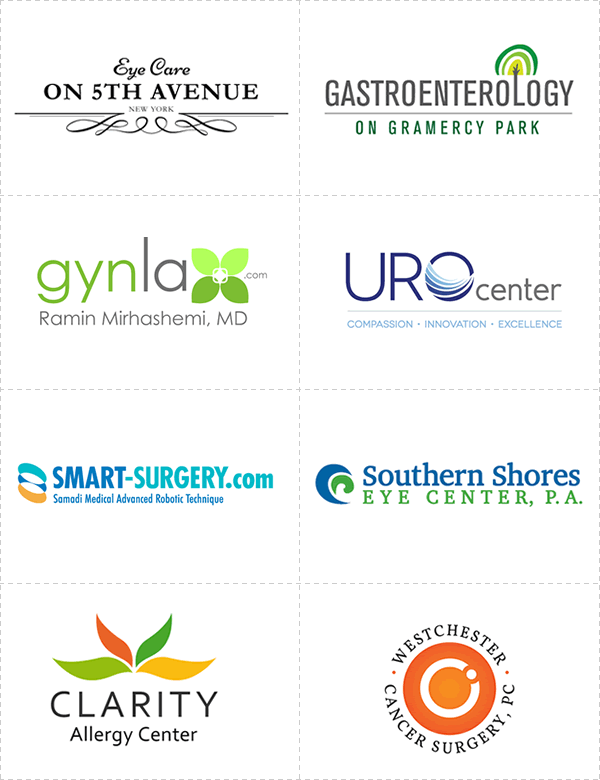 Medical and healthcare logo design services: 845-424-6258