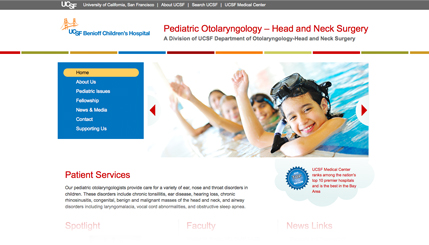 UCSF - Pediatric Otolaryngology
Aurora approached this site with a careful blend of medical know-how and patient-centric warmth. This fresh site gives visibility to the highly-specialized pediatric otolaryngology department in one of the nation's top hospitals.

Clean design elements and warm photography greet the parents of very special patients, while providing informative overviews of pediatric conditions and treatments. Bright color palette of this website appeals to children as well as parents. An easy-to navigate menu structure and useful informational content describing every possible disorder of ear, nose and throat are essential to parents.

The website also features doctor bios, educational videos and online appointment scheduling for convenience. The site even includes fellowship opportunities and online payment for those wishing to make a financial donation. Vibrant colors and clean lines make the site memorable, colorful and simply great.