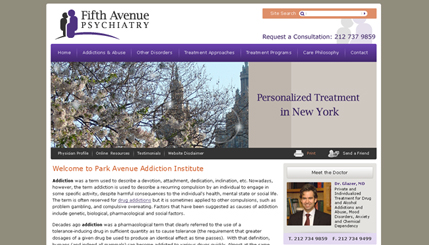 Fifth Avenue Psychiatry
Fifth Avenue Psychiatry practice specializes in general and addiction psychiatry, psychotherapy and medication management for anxiety, depression, adult attention deficit disorder, alcoholism and drug addiction. The new Aurora-designed website offers comprehensive information on addictions, disorders, treatment approaches and rehabilitation programs. The practice's approach and philosophy is infused in every part of the website, conveying a modern, intimate, professional and respectful setting for visitors who may need the services.
As the practice does not adhere to a one-size-fits-all philosophy, its website had to reflect its uniqueness. The dominant color of the website is purple, which has always been traditionally associated with wealth, prosperity, sophistication and royalty. However, in this website it is used to portray the color that stimulates the brain activity used in problem solving: the main goal of the Fifth Avenue Psychiatry.

The site features a homepage banner reminiscent of springtime that symbolizes a rebirth and new lease on life for patients. The newly designed logo symbolizes a partnership between the practice and the patient in the journey towards recovery.